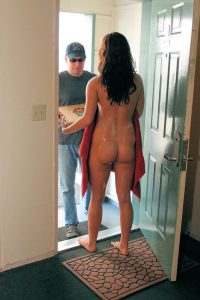 Here's a challenge for everyone – work your way through this list of locations and send a photo of each (with your NE username!) to Ed @ NakedExperiment.com. I will add your username to the ranking page.
To be added to the results table, photos MUST be full frontal to prove you are naked. Photos will only be published if you give me permission first. As you can see from the table, most participants have given permission but some have not. You still get your points regardless. Do not break the law and please try not to upset anyone. Photos should be e-mailed to MDL @ NakedExperiment.com. Don't forget to state your permission to publish if you want to see them on the site.
I'm not expecting anyone to complete the list as they will get pretty extreme towards the end. And ladies, please prove that men aren't the only brave ones!!
List of
Naked

Challenges
At home
Anywhere you like at home but make sure you don't have any clothes on.
Clothes shop/department fitting room
This one should be nice and easy as you can use the full-length mirror they always have.
Leisure centre, gym or pool changing rooms
Probably best to choose a quiet time – I can blur the faces of anyone else in the photo but probably best to not start taking photos when anyone else is around.
Outside your house
This can be in your front garden, back garden, on your drive or even on the pavement out the front.
A car park or layby away from home
Obviously, this one will require enough of the location in the background to prove where you are.
In the street
Show us how daring you can be with this one. Make sure we can see the street (houses or shops etc. OR some street furniture like a postbox or a bus stop) in the photo!
In the Park
There are some fantastic parks in this country. Let's see you naked in one of them! Make sure we can see the park too and a sign/bench or other furniture that shows it's a park.
In front of a supermarket
You don't need to be right by the doors, but ensure the main sign over the doors is in your picture.
Outside a Pub or Bar
Any pub will do – it doesn't have to be open.
Naked with other people in the photo
Anyone clothed people will do, even if they are a few hundred feet away (but close enough to see you!).
Naked in an open area, field or hilltop
Basically somewhere outdoors with no cover anywhere near you. You might need more than one photo to prove this one. A landscape (as opposed to portrait) photo is recommended for this one.
Receive a home delivery naked
It doesn't matter whether it's a takeaway, your groceries or an order from Amazon. The hardest part might be capturing it in a photo! Might be best to video this one?
A naked selfie with members of the public
A cover story will probably be needed for this one – tell them it's a dare or you've been sponsored to be photographed naked with as many people as you can to raise money for charity etc.. They don't have to be naked but can if they want to.
A naked pair
A photo of you standing fully naked with another fully naked person.
Take part in your local WNBR
Or Tiger Streak or any other mass nudity event. It may take several photos to prove this one and, of course, you must be naked yourself!
DELETED
—
Naked with someone else holding your clothes
They can be a friend or a willing member of the public, but they must ALL have your clothes in the photo.
Naked by a traffic light
And yes it has to be a real one.
Naked on the tracks
On a foot-crossing or on a footbridge over the track. It can be a train or tram line. (Don't break the law, do anything dangerous or get fined!)
Naked with a clothed group
They can be friends or members of the public but you must be standing with them.
Naked in a shop
This can be any open shop or laundrette but you must be COMPLETELY naked. Probably best to get permission from the staff first!
More to come…
There are circumstances where one photo may be suitable for two dares, however, you cannot use the same scene for two dares – that would be too easy! The admin's decision is final on all photo/video submissions.
NOTE:- Due to some indecision by participants, from now on, once permission has been given to publish a photo, we reserve the right to charge a £3 fee to remove any photo from the Master Dare list results.