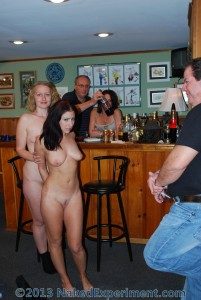 The idea for this website has been in development for several years now and is originally descended from a range of concepts and productions on A Measure of Curiosity and StripGameCentral.com.
The first design was a members' site featuring a growing collection of experiments. Each experiment was to comprise of a set of high-quality photographs covering several hours of experimentation. Those being experimented on usually have very little idea of what is going to happen in advance. That way the reactions captured in photographs are their genuine responses to either becoming naked or seeing others get naked.
Over several generations, the entire site change into a themed community based around the idea of experimenting with nudity. Whether members are new to the whole experience and want to try out being naked, or prefer to see other people naked, the aim is to appeal to everyone with an interest nakedness.
Some members enjoy the sexy fun of seeing people naked, others love the fun thrill of their own exhibitionism and some love the humiliation of stripping naked in front of other people. Whether you love to show off, fancy a new challenge or are just intrigued by how people react to being naked, this is a fantastic community.
Visit our F.A.Q. to learn more.