9th November 2018 at 10:02 am
#478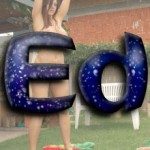 Ed
Wales, UK

Topics: 524
Comments: 1619
Total: 2143

Administrator of NakedExperiment Community

@ed
I liked the mosaic too (I guess I'm biased though as I created it!) but I've had a few comments over the last couple of years saying it made NE look like a porn site. Also, the way laws on adult content online are going, it's probably wise to avoid nudity on the entrance/landing page.
I will be creating some advertising banners for the site (to appear on other sites) soon and I expect to use a new version of the photo mosaic effect then, it's more eye-catching and that's important for banners.
My wife said that italic looked friendlier than non-italic.
This reply was modified 3 years, 7 months ago by

Ed

.