The NakedExperiment concept took several years to develop into the website that it is today. The media likes to present the world as either mainstream or porn, with nothing in between, but we all know that's not what the world is like. Lots of us, probably most, either like to see people naked, be seen naked or both. It can be art, a challenge, a bit of cheeky fun, exhibitionism or a mix of these.
It's fun to experiment, stretch your boundaries, explore a curiosity or sometimes just push your limits and challenge yourself to step out of your comfort zone. This is what this community is all about, but it took a while to get here. If you are interested in seeing a selection of videos which inspired the creation of this community, we've put together the key videos in a collection that our valued Community Supporters can download and keep. It's another of a range of benefits enjoyed by supporters. Supporters can click here to see the videos and non-supporters can click here to become supporters.
The collection consists of 8 short videos, covering a variety of related topics, all involving female nudity: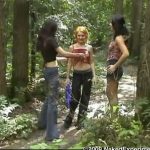 Woodland Dare (3m 52s – No audio)
Two girls dare another to take a naked run in the woods.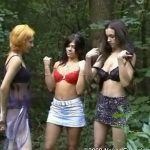 Shyness Test (4m 2s – No audio)
Two girls are tested to see who's the least shy. This is one of those videos which did not come out much like the original plan. The result was strange but fascinating.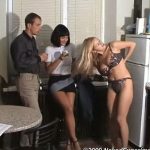 Emma Strips Unexpectedly (3m 55s – No audio)
Three friends are enjoying a cup of coffee and a chat when one of them, without warning, strips completely naked in front of her friends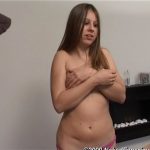 Amber's Audition (12m 46s)
Amber has an acting interview and while preparing for it she is talked out of her clothes by her friends.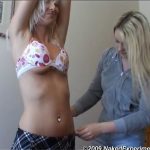 Statue Game (3m 11s)
A very simple game where one girl tries to show no reaction while another does her best to get a reaction, including removing her clothes.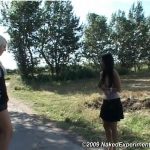 Tearry's Forfeit (1m 38s)
After losing a strip game, Tearry has to walk out into a field and strip naked. It's an embarrassing forfeit but she goes through with it.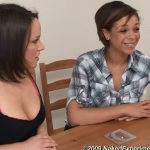 Vote (3m 23s)
Three girls vote for which of them must immediately stand up and strip completely naked in front of the others. Imagine the anticipation of not knowing if it's going to be you!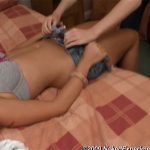 One Girl Strips Another (1m 37s)
Natalie has to strip Cate completely naked, but Cate isn't expecting it and isn't too keen!
Community Supporters can see these videos for free.
Click here if you are a Community Supporter.