31st May 2019 at 12:56 pm
#2657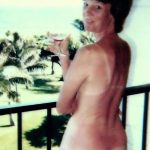 Susan
USA

Topics: 0
Comments: 109
Total: 109

Power Poster

@susan
That would be fun Arthur ….. a full month naked.
But it would just be impractical.   'Gotta go out for work and food and with friends shopping.
'Fun to think about doing all those things naked but I'd get arrested I fear.   I think the longest I've been naked since I was a baby is about two and a half days at a nudist resort.   I liked it but had to get dressed to go on a tour outside the walls.