19th April 2021 at 4:44 pm
#7761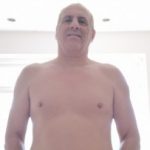 John
Cheshire, England

Topics: 7
Comments: 153
Total: 160

Power Poster

Verified as Male

@seasider
I'm still early on in the first set of dates and even though I haven't exposed myself, I'm getting a real sense of empowerment as it's something I've always wanted to do, but not had the guts.
So I would definitely be interested in a new set and we do seem to have more than 6 active once or twice a week.
I'm a bit of a technophobe, so I can see the odd issue, but I'll give it a go with videos if necessary.
Martin likes this