27th January 2021 at 6:38 am
#6768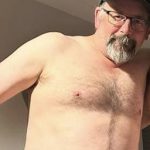 Martin
Topics: 9
Comments: 277
Total: 286

Ace Poster

Verified as Male
@martin
For me and made a personal decision a while ago that nudity can be very matter of fact, that what I have is the same as about half of the world, and it is very easy for even a single image to end up on the internet. So once you break the boundary of being nude for at least one other person who makes an image, you have less control on where it ends up.
As an individual, I know that I can be googled and naked images found of me. So it makes no sense for me to be masked to try to hide my identity on here and in the challenge. In my experience, I have been contacted by strangers and mention been made of my nudity and I've always found that to be positive and supportive. But I do know of others who are in the same position and haven't wanted to treat the comments in the same way that I have. Perhaps that's maturity.
So I fully support anyone considering taking part in this challenge, and hope that you would sign up. If you feel that covering your face makes the first step into displayed nudity easier or more acceptable, together with a fake name, then do it. You won't be judged for masking.
What I find is that it is easier for me to allow others to create the imagery. More than a mask, the conscious act of taking your own photos could be a barrier to participation. For me, I'd prefer someone else to take the images and to direct me in my pose – because they can see the image rather than being worried about whether the image looks good.
If anyone wants to chat to me about it, feel free. You can private message me here, Skype chat, WhatsApp, Facebook messenger, Twitter….
Remember, you won't be judged for masking. Sure it's nicer without but, first and foremost, you have to maintain your comfort level.
Ed likes this