19th November 2020 at 9:08 pm
#5971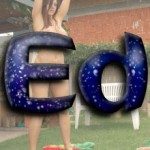 Ed
Wales, UK

Topics: 559
Comments: 1800
Total: 2359

Administrator of NakedExperiment Community

@ed
I thought Alex was going to win when a last-minute vote came in for him but, just after I added it, there was one waiting for Sangroid5k too.
Those who lost an item of clothing, have had their votes reset, so it's all to play for still!
9pm tomorrow, someone (or more than one) will be losing more clothing.
Sangroid5k, Prof Green, and 1 more person like this