16th June 2021 at 10:48 am
#8479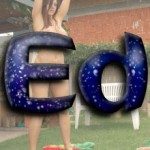 Ed
Topics: 567
Comments: 2352
Total: 2919

Administrator of NakedExperiment Community
@ed
Germany in the 1980s would often show casual nudity in mainstream newspapers and magazine (no blurring or censorship).
France in the early 80s would sometimes have full-frontal female nudity on billboards beside the road. One year they had a teenage girl advertising a "naked" yoghurt product and the billboard was a photo of her from the knees up, completely naked, just holding up the yoghurt pot and smiling.
Holland was also very free and easy with nudity.