26th May 2021 at 12:08 am
#8162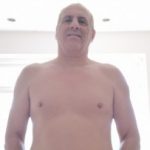 John
Cheshire, England

Topics: 7
Comments: 163
Total: 170

Power Poster

Verified as Male

@seasider
I fully intend to be involved. If you are or were part of the naturists, I haven't joined yet, do you know anything about the morecambe Bay walk in June David?
I was debating it but would need to swap a day off as I'm working that day.
Presumably you need a bag with clothes/drinks. Is there transport back to Arnside at the end, do you have to turn round and walk back or is it aimed at groups who can have vehicles parked at both ends?