4th May 2021 at 5:11 pm
#7845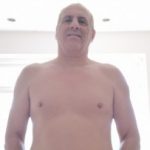 John
Cheshire, England

Topics: 9
Comments: 182
Total: 191

Power Poster

Verified as Male

@seasider
I suspect there is some truth in that.
Ive wanted to do something for a while, but now I'm single and my kids are adult, there's nothing to stop me, apart from work and providing none of the dares stray onto risking illegality.
Others may not be so lucky. I'd also add that I'm working back through old stuff, there's not not recent activity/dares to drive traffic to the site.
Get something going again and see if it spikes some interest?
Martin likes this