8th April 2019 at 9:35 am
#2276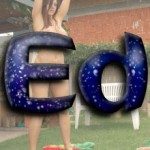 Ed
Wales, UK

Topics: 497
Comments: 1475
Total: 1972

Administrator of NakedExperiment Community

@ed
That's another pass, @profgreen.
In case anyone is wondering, the reason for the paper with NakedExperiment written on it is to ensure that everyone is using a photo taken for the dare and not something from years ago or taken from the net. It seemed like the easiest way to verify entries.
This reply was modified 3 years, 1 month ago by

Ed

.
Gary, Prof Green and Steve like this